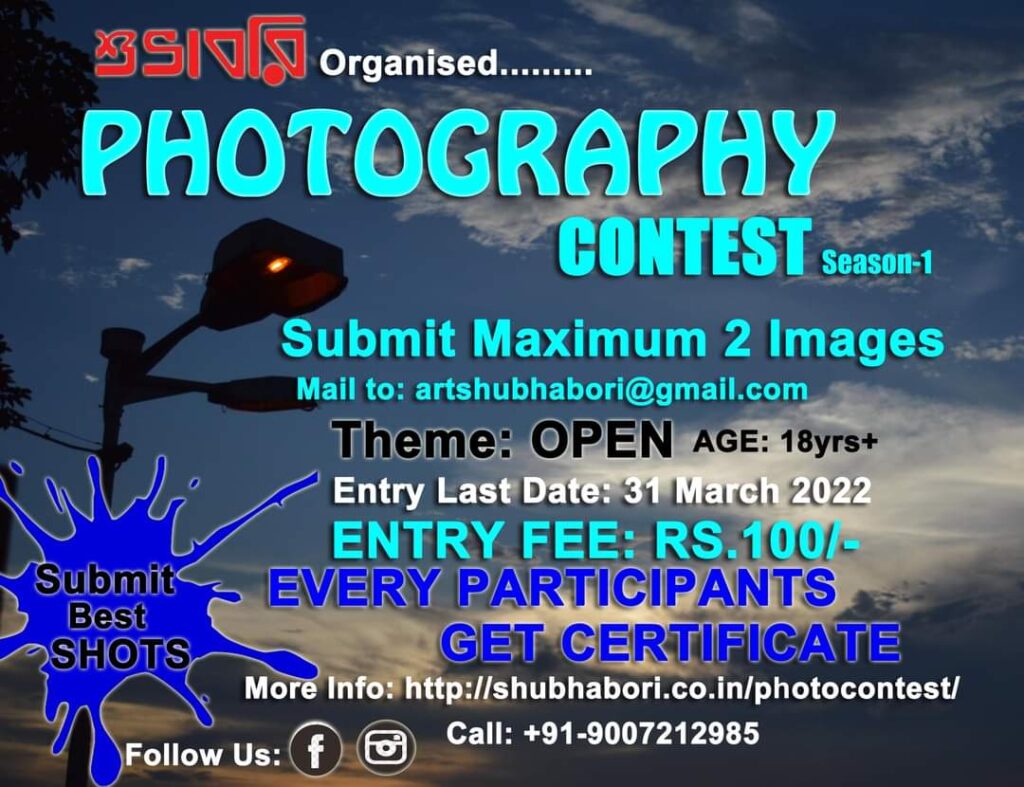 SUBMISSION GUIDELINES
JUDGING AND RESULTS
Entrants are allowed to participate with maximum 2 entries
• Entries will need to be sent in digital format to the e-mail id: [email protected]
Subject : Photography Contest S-1.
write Clearly Name, Address, Contact No.
• Entries in the form of digital image files should be sent in JPEG format in minimum 300 resolution (lower compression)
• The digital files should have a minimum resolution of 1600 X 2000 pixels
• The file size should not exceed 2 MB
• All entries must be submitted latest by march 31, 2022
RIGHTS OF USAGE
• The entrant must be the sole creator of his/her photographs
• By entering the competition, entrants agree to allow 'SHUBHABORI' to publish their selected photographs in print or electronic PLATFORM, in a future issue or issues. of 'SHUBHABORI' magazine and in the official website www.shubhabori.co.in or for other editorial and promotional purposes, without payment.
• 'SHUBHABORI' will appoint a judging panel to determine the winning images and honourable mentions based on a final shortlist
• The decision of the judges will be final and binding
• Entries will be judged on the basis of interpreting and expressing the theme, along with the technical and aesthetic quality of the photograph
• The result of the competition will be announced WWW.shubhabori.co.in.
• Entrants may be contacted for a high-resolution JPEG or RAW file of their image and other details such as proof of authenticity for potential shortlisting or printing purposes during the competition. Failure to produce such details or a high-resolution file within seven days will eliminate an entrant as a winner
AWARDS
• The best 3 photographs will be judged as first, second & third position winners get Trophy.
• Seven special recognitions will receive special awards
• The award-winning photographs will be published in 'SHUBHABORI' official website with credit to the winners
• All participants will receive a participation certificate
FEE pay through Phone Pay or GPAY : 9007212985